Since the Guardian pledged a year ago to give the climate crisis even greater priority, we have published a piece of environmental journalism on average every three hours. Greenhouse gas emissions, heatwaves, wildfires, melting polar ice, floods, droughts, the annihilation of wildlife, air pollution … the problems grow more severe every year.
Of course, 2020 has been dominated by the coronavirus pandemic, but even here the correlation with environmental destruction is clear.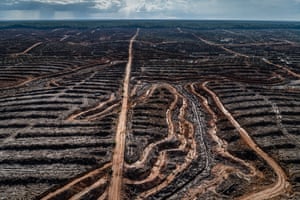 The Covid link
The "tip of the iceberg" – that was the warning early in the year, when we reported that many more viruses were present in wildlife and just waiting to be released by the human destruction of nature. The UN's environment chief said "nature is sending us a message" that our abuse of the planet had consequences.
As critical as it is to tackle the damage caused by Covid-19, the root cause – the invasion of wild places and the exploitation of wild animals – is not being addressed, experts warned in the Guardian, despite the relatively tiny amount it would cost. Without action, even worse pandemics would happen, top scientists warned.