Earlier in the week, Mikel Arteta was asked whether his senior players were letting him down. He flat-batted the question but, just in case anybody was still wondering, it has surely now been answered beyond all doubt. Arsenal have racked up a varied collection of new lows in recent years but this woeful defeat to Burnley, along with the inexcusable idiocy that precipitated it, surely caps the lot.
Granit Xhaka's rehabilitation since falling out with the home fans last season was one of the early success stories of the Arteta era. After 58 minutes of a tense, scruffy match that reflected the fact team and manager are under mounting pressure, Xhaka threw Arteta's trust back in his face. He had just fouled a breaking Dwight McNeil and it was hard to tell what enraged him during the ensuing melee, in which he squared up to Ashley Westwood. A VAR check showed conclusively, though, that he had grabbed Westwood around the throat and a red card was in little doubt once Graham Scott had checked his pitchside monitor.
Arsenal had, for whatever it is now worth, begun the second half well. But when your players prove, week after week, that they are beyond control any green shoots barely register. Three weeks previously Nicolas Pépé had put them on the back foot at Elland Road by headbutting Ezgjan Alioski. This time Xhaka opened up a match that, since a glaring early miss by Chris Wood, Burnley had been content to spend on the defensive. Sean Dyche's players immediately emerged from their shells and concocted a winner that could not have better summed up Arsenal's state.
It has been little secret that Pierre-Emerick Aubameyang is desperate for a goal. He got one here and the scriptwriter who decided it would be for Burnley has a rare line in black humour. It came when Westwood swung in a corner from the left and Aubameyang, rising at the near post, reached the ball ahead of Josh Brownhill. He could only watch in horror as the ball skimmed off the top of his head and flew beyond Bernd Leno, nestling in the far corner and bringing out the first Emirates Stadium boos of the Covid-19 pandemic.
The corner had been delayed due to a further VAR check on Mohamed Elneny, who appeared to shove James Tarkowski as the players lined up in the box.
There seemed little reason not to send Elneny off too, but punishment was swiftly exacted in a different form. When an inherent lack of discipline is so routinely underpinned by weak resolve in either penalty area, the consequences tend to be debilitating.
Arteta now faces the same question with which Unai Emery was confronted towards the end of his tenure: how to manage a team that looks unmanageable. The rot is deep-set and he needs to get a grip, preferably by making swingeing changes the second next month's transfer window opens.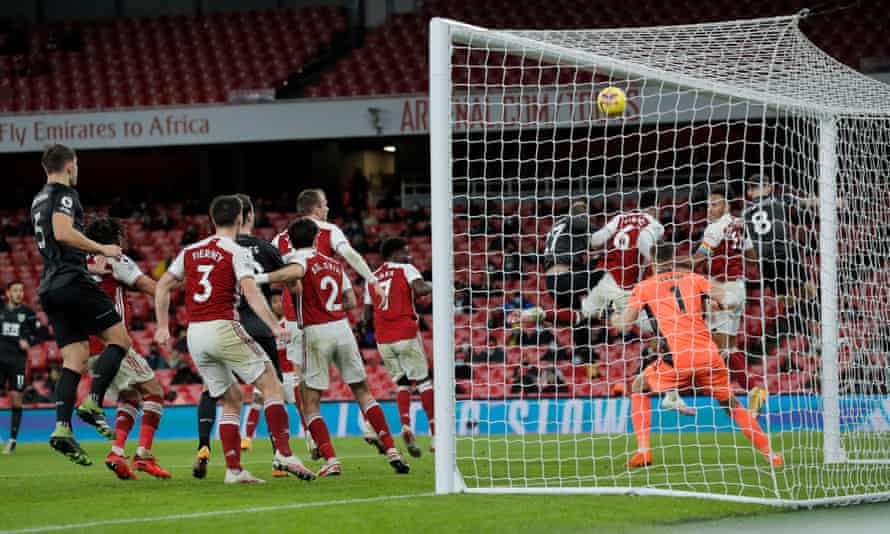 Time will tell whether he is capable, and squeaking a win against Burnley would have only papered over the cracks. But the frustration was that, after a tedious opening half in which they tested Nick Pope seriously only through Alexandre Lacazette's first-time shot, they had begun to show signs of opening up Burnley.
Aubameyang, finding some rare space, had set up Kieran Tierney for a low shot that Pope held well, before the England goalkeeper parried Bukayo Saka's effort into the air. Even Willian, whose trudging displays have epitomised Arsenal's malaise, looked bright at that point and he saw a low drive hacked away from near the line.
Then Xhaka and Aubameyang, in their different ways, pulled Arsenal deeper into the mire and despite a late surge, there was no way out. Tarkowski got his head on to a goalbound Saka shot and, in the final minute of injury time, Robbie Brady cleared Rob Holding's header from in front of goal. That chance came from a corner for which Leno had stationed himself in the Burnley six-yard box, summing up the sense of desperation that infected those final stages.
It felt like a long time since, in the 14th minute, an unmarked Wood had exposed Arsenal's soft underbelly before miscuing his attempted header and letting them off the hook. Burnley were, for long periods, the by-numbers version of their redoubtable selves but that was enough to keep themselves in with a credible shot.
Their first away win of the season, brought about by their first away goal in four games, was deserved and they look capable of avoiding the relegation fight again.
Do Arsenal? That may yet prove an alarmist question. But they are racking up their own bunch of firsts, all of which they would consider unseemly.
This was their first defeat to Burnley since 1974 and the first time since 1959 that they have lost four straight home games. The records are being smashed; the team itself just looks broken.