The propensity for major championships to deliver fairytale stories has been emphasised once more after A Lim Kim, on her US Women's Open debut, claimed the trophy on Monday. Kim's success, sealed by a birdie-birdie-birdie finish, means South Korean players have won this tournament for nine of the past 13 years. The 25-year-old Kim had trailed by five with 18 holes to play.
Whereas Kim claimed $1m (£750,000), Amy Olson drew neutral sympathy. The 28-year-old is still awaiting a main tour win, with her two-shot lead during the delayed back nine rendered more significant by the sudden death of her father-in-law on Saturday. Olson had to settle for a share of second, one shy of Kim, alongside Ko Jin-young.
"I have super mixed emotions," Olson said. "Coming out this morning I had no idea what to expect. It was just one of those things where I felt very weak and helpless for the last couple days and probably the same today on the course. It just makes you realise how much bigger life is than golf. I'm pleased with my finish overall and my performance.
"I knew I had to stay very mentally disciplined just to get through the day. I allowed myself to think about what I'm grateful for and I've got a long list."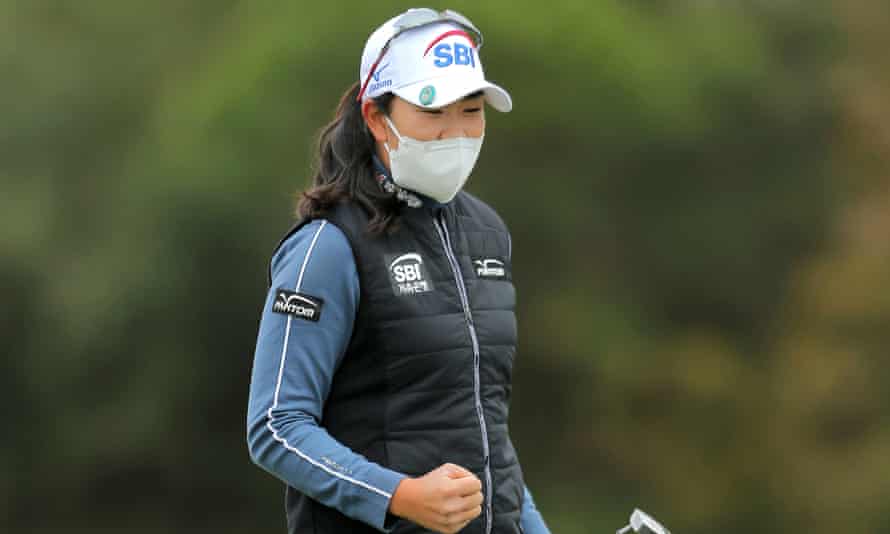 This was, however, Kim's day. Her three under par total at the Champions Club in Houston and nerveless finish made a mockery of a pre-tournament world ranking of 94. As somehow befitting the final major of a pandemic-affected year, Kim played her final 18 holes while wearing a mask. The reward for this success? Fourteen days of quarantine when she returns to Korea.
"It's so overwhelming to win this tournament," she said. "Every time I practice I usually wear a mask, so I'm used to it. I'm OK to get positive tests for Covid-19, but I don't want to affect other people, players, a caddie that's playing within the group, so that's the reason I wear the mask throughout the round.
"But I love this course, I love this environment. I want to put a tent up here and stay a few more days."
Hinako Shibuno, the 2019 Women's Open champion, finished fourth. Charley Hull signed off with a 72 for a share of 30th. Hull's fellow Englishwoman Bronte Law closed in the same position.