Video
Palette styles new do not delete
In this episode of Modern Masculinity, Iman Amrani speaks to fathers of young children about their experiences during lockdown. She meets Mark Williams, a fathers' mental health campaigner who discusses how important it is to address the struggles they encounter
Watch our series of in-depth films exploring in rich detail the stories behind the headlines
Former Guantánamo detainee, Mohamedou Ould Salahi, and his guard, Steve Wood, reunite in Mauritania 13 years after last seeing each other, rekindling an unlikely relationship that profoundly changed their lives.
At the end of his US presidency, Barack Obama said his worst mistake was failing to plan for the day after the intervention in Libya. What followed was chaos. Filmed over seven years, this is an observational mosaic, capturing the feeling of a country in the hands of warlords and a proxy war, while a divided political process and a fragile international peace deal loom.

'Sharon' has been addicted to poker machines since they first arrived in Australia in 1992. Through this animated documentary, she reveals the devastating impact gambling has had on her life

Twenty years after Lupita lost her family in the Acteal massacre in southern Mexico, she has become a spokesperson for her people in a Mexican indigenous movement led by women​

Astronaut Jessica Meir's seven-month mission on the International Space Station glides from the euphoria of the first days in zero gravity, to the deep pressure of the first all-female spacewalk in history. Will the astronaut be returning to a completely different planet?
Craft beer brewer Wang Fan and other young people reflect on trying to get their lives back on track as the rest of the world struggles with the pandemic

White House press secretary Jen Psaki defended Joe Biden's comments comparing Republican governors to Nearnderthals for lifting mask mandates in Mississippi and Texas

Nicola Sturgeon has said she will 'get on with the job' of steering Scotland out of the coronavirus pandemic

Boris Johnson has said the latest problems surrounding Brexit and Northern Ireland could be solved with 'goodwill' and 'common sense'

Chancellor defends budget after Joseph Rowntree Foundation says decisions on universal credit will put half a million more into poverty
What are abolitionists calling for and how would a police free society work? We explore the arguments for abolishing police in the US

Conspiracy theories linking 5G technology to coronavirus have resulted in dozens of phone masts across the UK being vandalised in recent weeks. Theories about the dangers of 5G had already been circulating, despite regulators confirming that the radiation levels of the new technology are well within safe boundaries. So how did the conspiracy incorrectly linking it to 5G start? And is 5G really dangerous? We explain why 5G has nothing to do with Covid-19

Thousands of people die annually trying to cross borders. It's often argued stronger borders and more checks would deter people from making dangerous crossings. But how accurate is this? Maya Goodfellow explores what the current border regime means for people seeking asylum
Kieron Pollard of West Indies has become the third batsman to score six sixes in one over in international cricket.

Wales benefitted from two contentiously awarded first-half tries against Jones' defending champions, but finished powerfully in a 40-24 win, building upon victories over Ireland and Scotland in the opening two rounds.

The Los Angeles Lakers superstar was responding after the Milan striker called it 'a mistake' for James and other athletes to get involved in political causes.

England captain Joe Root claims there was a 'challenging surface' after India crushed the team by ten wickets in two days of the third test
The Guardian's UK technology editor Alex Hern examines how exactly bitcoin uses electricity - and if the environmental cost of this crypocurrency is too high

A lawyer showed up to virtual court in the 394th district of Texas with a kitten filter turned on

Facebook targets 'stop the steal' content and says Trump ban may be permanent.

Company places limits on phrase behind false election claims as Sheryl Sandberg says she's 'glad' president was blocked

Describing the implant as 'a Fitbit in your skull with tiny wires', Musk said the pig was 'happy and healthy' two months after initially having it fitted
Duchess of Sussex criticises 'the firm' in latest excerpt ahead of broadcast of full Oprah Winfrey interview
Socialite Paris Hilton has been speaking out about abuse she said she suffered at Provo Canyon boarding school in Utah.

In an Australian first, a farm in Western Australia is using infrared technology to scan for unbruised avocados

Eleven-year-old skateboarder Gui Khury has become the first person to land a 1080-degree turn on a vertical ramp

The Australian comedian crawls her way across the stage 'like some kind of crazy sexy inchworm' to meet the men in her audience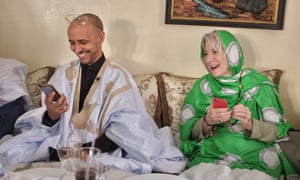 Nancy Hollander has taken on many difficult cases in her career, but none quite like that of the Guantánamo detainee Mohamedou Ould Salahi